Glasgow Violence: When Media Bias Goes Too Far 

On Thursday, 85% of the Scottish population turned out to cast their votes in the referendum on independence following days of peaceful demonstrations by Yes voters in the heart of our largest city, Glasgow. 

On Friday, Glasgow was gripped by fear as pro-union fascists rushed George Square, determined to engage in violence and hatred; the loyalists of Glasgow joined by members of the Scottish and English Defence Leagues, and all partly encouraged by Britain First.

Young girls had their Scottish flags torn away from them, women with Yes badges were spat at and called scum, nazi salutes and red hand of Ulster salutes were seen, flares were thrown, and the sectarian edge was on full display with "No Surrender" signs. Assaults were made on those carrying Saltires.

https://vine.co/v/OWPzrhni0Aj/embed

These are not the scenes reported by the BBC news or a number of newspapers who assure us that this was a "clash" between Yes and No voters, following their portrayal of Yes voters as Scottish nationalist mobs who intimidated No voters, despite little evidence to the contrary.

In truth, the police had the events of last evening well in hand. Glasgow is no stranger to sectarian trouble (a number of this mob wore Rangers tops), quickly surrounding the group and acting to restrict violence as far as possible as they departed the square and moved elsewhere. Six arrests were made and after a few hours the city was calm once more.

But what there was a disturbing lack of was information. News. People in the city and those in the rest of Scotland with friends and family in Glasgow had no idea what was happening. Those on twitter could find no information on whether things had escalated or calmed down, on where was safe and where was not.

The police described the situation as "handbags". They've dealt with much worse. But to write this off as sectarian violence alone excuses those fascists who travelled to take part. To write it off as only fascists excuses the local loyalists spoiling for a fight.

While the identity of the perpetrators is unknown, the one Scotland newspaper that supported independence – The Herald – had their generator set alight. The Sunday Herald is currently collecting evidence from the night to make a full report in their next edition. 

https://twitter.com/JonCoates/status/513087992106610688

Glasgow is a complicated city with a troubled past, but the level of political engagement across Scotland and within the city during this referendum was unprecedented. And almost entirely peaceful until now. Scotland had shown the world what democracy without war looks like, but while the UK media ignores the dark side of both Glasgow and the union, the international media has carried the most information on events.

https://www.facebook.com/video.php?v=10152309438961498

That people in Glasgow, Scotland and the UK had to turn to twitter to get the real information of what was happening is incredible. And while photographs and videos were helpful in illustrating the events, there was no control on validity of information. #GlasgowRiots trended through the night despite the situation being over, while many seemed under the impression that it was Yes voters at fault.

https://www.facebook.com/video.php?v=10202433758517846

Invoking the spirit of sectarianism there was no doubt trouble on both sides of that particular divide, but the swelling of ranks from fascist groups ensured that it was those bearing the Scottish flag or Yes badges that were in danger.

This was no celebration. This was no representation of No voters. These bigots represent no one but themselves. But the media turning a blind eye to this, or insinuating it is no worse than Scottish nationalists throwing an egg is irresponsible. I had friends hiding at home because they were terrified to go out on the streets without the safety of having white skin, with no idea of when the trouble was over.

There are Orange marches planned today in the city. Hopefully these idiots will stay at home. Please stay safe.

(Photo credits L-R: Jon Brady via Twitter @jonfaec; Cathal Mcnaughton / Reuters; PA; Reuters; Reuters; Herald'; Herald; Reuters; Reuters)

(My apologies that none of the media wants to embed) 

As you can see on the reuters video, one of the young girls has a BRITISH flag taken away from her.

BBC has said that both sides were attacking each other, they didn't just blame the yes voters (even writing that "Disorder began when the Union supporters fired a flare and charged").

Moreover, like a proper news station should, they waited to get proper sources and not vines.

Allegedly some of the videos are actually Tottenham riots.

There was no attack on Herald, it was an electric accident at the back of the Flying Duck which is next to Herald.

I'm not saying it's good that there were any riots, and I condemn both sides but it was slightly more than 200 hundred neds battling it out on a Friday night.

Celtic - Rangers games have more violence.

I agree it should have had more local coverage. 

 

As mentioned originally: "Invoking the spirit of sectarianism there was no doubt trouble on both sides of that particular divide…"

The BBC has now removed that from its write up, as of course this was not about two sides but one group of people as the news is now (mostly) accurately stating.

The videos are not from the Tottenham riots, they are from Glasgow locals. It was some of the unsourced photographs being circulated that were from riots elsewhere. Videos at the scene are credible sources.

Alex Thomson of Channel 4 news has said CCTV footage confirms arson attack on back of Sunday Herald building.

Police Scotland have confirmed there were over 700 people and that more arrests are forthcoming.

More coverage overall would prevent these wrong rumours being circulated. Please do not contribute to the spread of misinformation, that's exactly what my original piece was trying to avoid. 

I meant Tottenham photos, my mistake.

Still, I'm rather conservative when it comes to news and prefer them not to be vines or tweets, so I'll will wait for an article or an official press release from Herald about that fire.

Also I believe the event started with 700 and then became a smaller number but that's what I heard from my friends who were some of the people who decided to go home before the riots actually started, therefore I don't really want to use it as a source of trustworthy information. 

I'm sorry if I contributed to the spread of misinformation, but it was simply from different sources and before the new information appeared.
No worries, I'm just keen to keep this as factual as possible - only news with sources :)
———
Today's edition of The Sunday Herald (the one pro Scottish independence newspaper in the UK during the referendum campaign) has lots more information (cookies may need cleared to read):
Eleven arrests after loyalist No supporters' descend on George Square
Police investigation into fire near Herald office
CCTV footage shows two men approach the seven-feet tall metal generator in Renfrew Court adjacent to the Flying Duck basement club, frequented by students, and the Atholl Arms bar shortly before 11pm.
Gay councillor targeted by hardline loyalists in square
It shows a heavy-set man approaching Sheridan with clenched fists held above his head screaming: "You can stick your independence up your arse. No surrender. We are the people."

He then turned on the councillor's companion and shouted: "Scum, scum, nationalist scum.".

A second man then joined in the abuse, screaming: "It's not your f**king country. Why don't you f**k off? Scotland said no, you f**king poofter. F**k off."
They're shouting at us, calling us scum. It's awful to come here and feel threatened
Loyalist banners began to be unfurled. A young man thrust a Union Jack at me, snarling: "You might want this for later." Then the square was a sea of red, white and blue.

"Bow to your British master," said one loyalist pointing to the ground before a Saltire-draped protester.

…

Many of the Yes campaigners were little more than kids of 14 who hadn't been able to vote, 16-year-olds who voted for the first time. The Union Jackers were older, almost exclusively male and white.
'Time has come to see such displays for what they are and the damage they do'
In the wake of that grotesque bout of loathing, I find myself asking why it should be that the vast majority of decent ordinary Glaswegians and others should be subjected to such an experience. Such displays are not new, but the time has come to see them for what they are and the damage they do. They have no place in the Scotland that most of us hope for and aspire to.
George Square Trouble: The night our readers became reporters
The entire loyalist demonstration had indeed been orchestrated online, it turned out. You sent us the online poster headed "Scotland Said No" asking for demonstrators to come to the city centre at 6pm. The poster was circulated widely by Britain First, the far-right party set up by ex-BNP members, which has a strong following in Northern Ireland and the west of Scotland.

…

Then you sent us the social media exchanges of various loyalists you had been monitoring online. One read: "Glasgow riots were crazy, absolutely brilliant buzz. Rule Britannia!"

Others talked of going out "slashing c**ts" and wanting "to go to George Square and stab a couple of pencilcases" (slang for students). Another read: "I stabbed a c**t n I liked it". 
——-
Police Scotland earlier warned more arrests were forthcoming, and confirmed that over 700 people were present at the time.
"Don't think that because you were not arrested by last night that you will not be caught. If you were involved in any criminality in the square we will identify you and you will be arrested.

"I would ask that anyone who has any information that could assist us with our enquiries to contact officers via the non emergency number 101."

The right-wing Britain First had encouraged the event on their Facebook page.
There are reports of the people who travelled from England to take part.
Channel 4 News provided some accurate reporting on Saturday evening.


——-

Meanwhile The Times continues to misreport the event (emphasis mine):
Eleven people have been arrested during scuffles between pro-union and pro-independence campaigners in Glasgow's George Square following yesterday's referendum result.
After an earlier Times piece about a previous evening was originally mistaken for satire. It isn't. Via twitter:
The Times states that skinheads in Glasgow were surrounded by police for their own protection from Yes voters.

WHAT THE FUCK.
George Square is now the site of a peaceful gathering with Yes voters and more collecting food bank donations that are greatly needed in the city.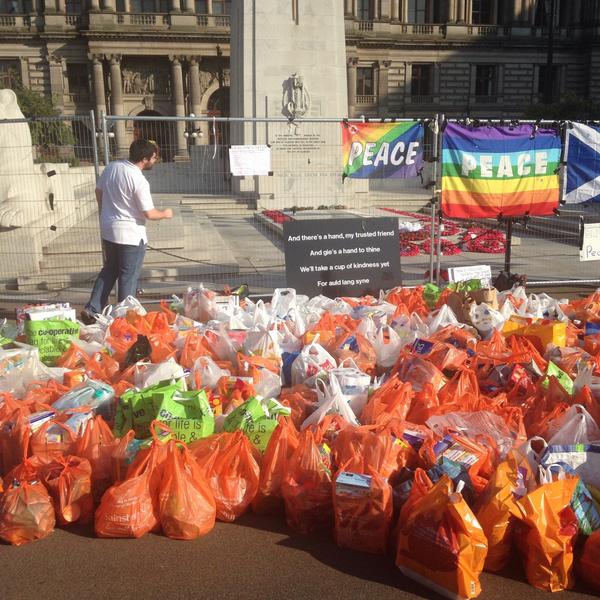 ——-


Finally, I would like to remind people to please not share links from pro-independence website Wings Over Scotland. Their popularity has grown once again in recent days, but the blogger behind it is a proven transphobe, with other reports of racism, domestic violence support, and misogyny.

People behind any political movement are capable of being vile bigots. They do not represent the Scotland we want to be in the future.